2021 Breeding season rundown
With the onset of migration and breeding season MRBO has hired technicians to help us document the birds that are using the wetlands and grasslands throughout Missouri. Surveys began with the Wetland project from mid-April through June. Additionally, from mid-May through June, MRBO is wrapping up grassland bird monitoring on Conservation Areas and private ranches. These projects use similar protocols in line transect surveys (which can be read about more in Our Reports). Additionally, throughout the breeding season we locate and monitor nests of grassland birds in patch-burn-grazed rotational grasslands in southwest MO (this project is still ongoing). Even with Erik, Dana, Ethan, and Zeb all out in the field covering some of the sites, there is no way we could cover them all in a timely manner. These projects require lots of hiking across muddy wetlands and sunny plains, and we appreciate all our staff for their dedication! Stay tuned for our full reports later this year after all surveys are concluded.
Below are the bios for our current seasonal staff:
Josh Mosteller is a 19-year-old birder from Columbia, Missouri. In 2019, Josh traveled to Delaware with his sister to the American Birding Association's Camp Avocet, which is a week-long camp for teenage birders to learn and explore several hotspots in the region. Family road trips, with an emphasis on exploring the outdoors, helped accelerate Josh's interest in birds. This connection with nature has provoked Josh to consider making a career out of wildlife conservation. His next step may be to pursue higher education.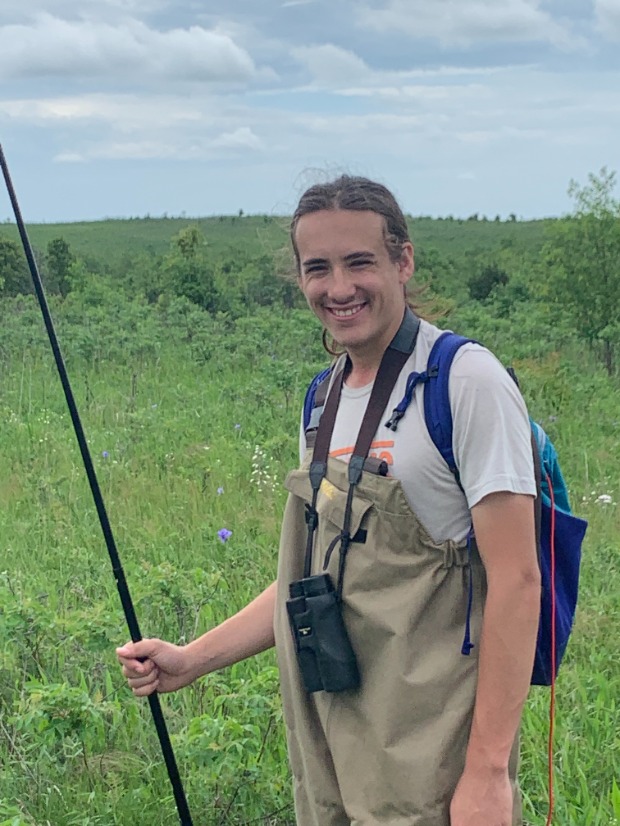 Davis Balser is a rising Senior at Purdue University, originally from Atlanta, Georgia. He is currently working towards a Wildlife bachelor's degree with a minor in forest ecosystems. He is involved in undergraduate research at Purdue, leading the Northern Saw-Whet Owl banding program and doing window strike research on campus, and a member of the Purdue Chapter of the Wildlife Society. This is his first season working with MRBO and he is excited to see Greater-Prairie Chickens and Upland Sandpipers this summer​.
Alex Marine's passion for birding started when he was ten years old. He spent the following years learning how to identify birds on Table Rock lake near Branson, Missouri where he grew up. He then graduated with a degree in Wildlife Biology from Lees McRae College in the mountains of North Carolina. He began the LMC Audubon chapter at the college and was able to get involved with the Carolina Bird Club. In the Spring of 2020, I worked with the highly endangered Florida Grasshopper Sparrow shortly before beginning a position surveying birds on private property and the backcountry of several national parks throughout the states of Wyoming, Montana, and Idaho.
Trey McCuen took up birding at the young age of 13. The local Macon, GA Audubon Society aided in sharpening his skills as he attended countless field trips. His first field job was at 18 in the boreal forest of Alberta, Canada. He became more involved in the birding community, leading tours for the Biggest Week in American Birding Festival in northwest Ohio and led private pelagic tours off the Georgia coast. He attended Abraham Baldwin Agricultural College in south GA for Wildlife Biology.